Laboratories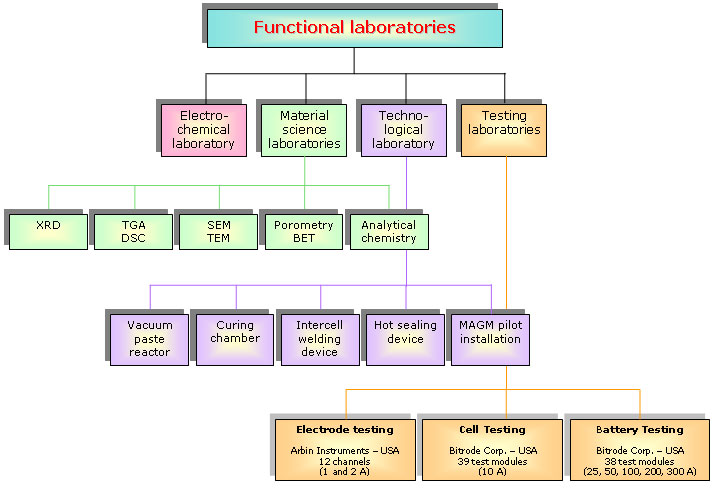 ELECTROCHEMICAL LABORATORY
The Department of Lead-Acid Batteries has an electrochemical laboratory outfitted with Arbin Instruments systems with the respective software for potentiostatic-galvanostatic measurements and for linear sweep voltammetry. For Impedance measurements Solatron 1286/1250 electrochemical Interface with 1250FRA is available.
MATERIAL SCIENCE LABORATORIES
X-ray diffraction laboratory
The X-ray diffraction laboratory is equipped with an XR diffractometer APD-15, Philips 2134, allowing X-ray phase identification of various inorganic and organic compounds as well as precise qualitative and quantitative structural analyses at varying temperatures.
Laboratory for thermal analysis
This laboratory is equipped with a TGA/SDTA851e module for thermogravimetric analysis (TGA) and for simultaneous thermal analysis (SDTA), and a DSC822e module for dynamic differential calorimetric measurements. These new analyzers, supplied by METTLER TOLEDO, Switzerland, are used for complete characterization of the physical and chemical properties of lead-acid battery pastes, NAM and PAM.
Equipped with a scanning and transmission electron microscope JEOL 200 CX (Japan). The applications of this microscope include transmission electron microscopy (TEM), electron diffraction and micro-micro diffraction analysis, scanning electron microscopy (SEM), scanning and transmission electron microscopy (STEM) and X-ray analysis (from Na11 to U92). A microprobe JEOL Superprobe 733 (Japan) for electron probe X-ray microanalysis (EPXMA) including X-ray analysis, energodispersive spectrometer (EDS), wavedispersive spectrometer (WDS) and X-ray image, as well as secondary electron image (SEI) and backscatter electron image (BEI) functions.
Porometric laboratory
A mercury porosimeter MICROMERITICS AutoPore 9200 (USA) is used for measuring the volume of mercury penetrating into pores which allows determination of total pore volume; pore volume distribution; total pore area; median pores diameter and bulk density. A PMI Capillary flow porometer (USA) is used for measuring the flow rate passing through the pores and gives permeability, largest pore diameter, mean flow pore diameter and pore size distribution. The specific surface area is determined within the range from 0.1 to 1000 m2/g by means of BET areameter Strohlein (Germany).
Analytical-chemistry laboratory
This laboratory is equipped with an atomic absorption spectrophotometer PYE UNICAM SP 192 for precise determination of the content of various alloying additives in lead alloys as well as for measuring the content of impurities in sulfuric acid solutions. Routine wet chemical analyses are also performed in this laboratory.
Various types of batteries can be manufactured in this laboratory for different kinds of investigations. Experimental grids and electrodes can be cast from various lead alloys; tubular plates of various designs can be wet filled under various pressures; pastes of various formulations can be prepared; curing under various conditions can be performed.
The laboratory is equipped with:
Vacuum paste reactor/mixer Eirich (Germany)
For our investigation purposes we produce pastes in up to 15 kg batches. Lead pastes of various phase compositions, densities and structures can be produced with this equipment
Curing chamber Weiss (Germany)
This computerised curing chamber allows strict independent control of temperature and humidity during curing and drying of lead-acid batteries plates.
Intercell welding machine
We have designed and constructed extrusion-fusion machines for intercell welding of SLI batteries with capacity up to 60 Ah.
This automatic machine is used for joining case cover with battery case by thermal welding for SLI batteries with capacity up to 60 Ah.
Pilot installation for MAGM production
We have developed and constructed computerised laboratory-scale pilot installation for MAGM production, which allows bilateral coating of AGM separator with polymeric emulsions of various compositions and with different hydrophilic properties on both sides of AGM. The degree of impregnation can be controlled during MAGM production.
Battery testing laboratory
The Department of Lead-Acid Batteries has a testing laboratory outfitted with modern computerized equipment from Bitrode Corp. (USA) for testing of all types of lead-acid batteries (37 channels, 12 V - 25, 50, 200 and 300 A). Battery tests can be performed according to all test standards adopted in the battery practice worldwide as well as applying test schedules developed by the Laboratory to meet specific user requirements.
This laboratory is equipped for testing of lead-acid cells with maximum capacity of up to 8 Ah. It is outfitted with modern computerized test modules from Bitrode Corp. (USA) (33 channels, 5 V, 10 A)
Electrode testing laboratory
Investigations of the electrochemical behaviour of small plates with PAM and NAM are carried out in this laboratory aimed to disclose the elementary processes that occur on charge and discharge of the positive and negative plates and to study the influence of some alloying additives on electrode cycle life. The electrode testing laboratory is equipped with a computer controlled multi-channel potentiostat/galvanostat MSTAT 4+ (1A) and 8 channel MSTAT (2A) systems supplied by Arbin Instruments (USA).
The above laboratories are operated and maintained by highly qualified chemists, physicists, engineers and technicians.