Exhibitors Packages
A virtual exhibition will be held during the 11th International Conference on Lead-Acid Batteries, LABAT'2021. Lead-acid battery manufacturers and suppliers of equipment, technology and materials to the battery industry will be provided an excellent opportunity to raise their company's profile and to promote online their new products and innovative solutions as well as meet and chat with visitors and potential clients throughout the four days of the virtual event.
General information for LABAT'2021 exhibitors
The virtual exhibition will be open throughout the four days of the LABAT'2021 Conference (8-11 June 2021) and the TheVirtualShow platform will provide excellent opportunities for delegates to view the expo booths, download brochures and promotional materials as well contact booth personnel and chat online or schedule a private 1:1 meeting.
Fully interactive exhibition booths of different sizes will be provided, each booth featuring exhibitor logo, company description, downloadable materials and connectivity with representatives of exhibitor.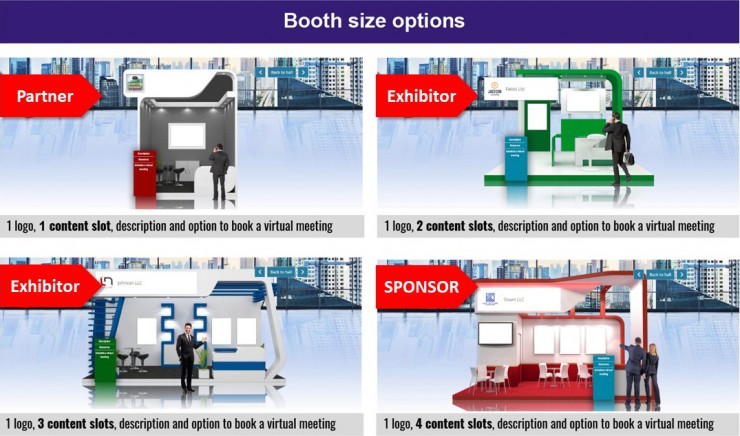 Virtual Expo Booth
Branded with company logo
Company description
2 or 3 content screens
Display resources on expo booth and in the LABAT'2021 resource centre – videos and downloadable files to promote products and services
Virtual chat room facility with booth attendees
Use of private virtual meeting rooms in the networking lounge for 1:1 meetings with partners and clients
Search & Connect, add contact and matchmaking options in the virtual networking lounge
Analytics and Statistics about booth visitors, time spent at e-booth, products added to visitors' swag bags, contacts with booth personnel, etc.
1 complimentary delegate's registration
10% discount on the registration fee for 2 or more additional delegates from your company

Please click here to download LABAT'2021 Expo Booths Requirements.
Exhibition Fees

Before

15 April 2021

16 April - 15 May

2021

After

15 May 2021

Virtual booth with 3 content screens

1300 €
1450 €
1600 €

Virtual booth with 2 content screens

1200 €
1400 €
1600 €
All registration fees are subject to Bulgarian VAT (20%). EU based companies with valid VAT number are exempt from VAT.
Reservation of the virtual exhibition booth shall be guaranteed by payment of the Exhibition Fee in advance. The provisional reservation will be confirmed only after receipt of payment. Expo Booth reservations cannot be guaranteed if no payment is received by 25 May 2021.
For more information and to book a virtual exhibition booth, please contact LABAT'2021 Secretary, Mrs. Mariana Gerganska at email: gerganska@labatscience.com, Tel/Fax: +359 2 8731552
Also see Section Exhibitors & Expo Area.